FRIDAY 30 September
(The wine trail photos were shot on a Google Pixel 6.  The Watkins Glen SP photos were shot on a SONY SLT a99v.  The sunset photos were shot on a Google Pixel 6 Pro.  All photos in this post shot by Bruce.)
I was still working on this post on Sunday evening, so some of the details had already faded.  As best I recall, our day started much like most other days, except possibly for the Just Egg scramble with potatoes that Linda made for breakfast.  Beyond that, our day was mostly about wine and related beverages, with a brief pause in the middle to visit Watkins Glen State Park.
We originally intended to venture as far as Ithaca and dine at the Moosewood Restaurant, but that didn't happen for several reasons.  First, and foremost, was that they were only open for lunch and dinner but not in-between, when we would have been there.  Secondarily, it is primarily a vegetarian restaurant (not vegan) and it was a long drive to get there and back.  Ithaca is a lovely town, of course, and home to Cornell University, so we would have liked to visit there again, but it was far enough out of our way that we needed a compelling reason to go.  Linda looked online and found another vegan place, but it was carry-out only, and you had to order online.  Eh, no.  We decided we would just taste wine, and buy some if we liked what was on offer.
The rest of this post is mostly photos with captions.
There are dozens of wineries just around Seneca Lake, and over 100 wineries / tasting rooms, as well as cideries and distilleries, in the Finger Lakes region.  But many (most) of them do not belong to the Wine Trail associations (one for each lake), so we did not have much information about most of them.  The meadery and winery mentioned in the two photos above were the only ones where we planned to stop, so from there we just enjoyed the drive down to the Village of Watkins Glen to visit the eponymously named State Park.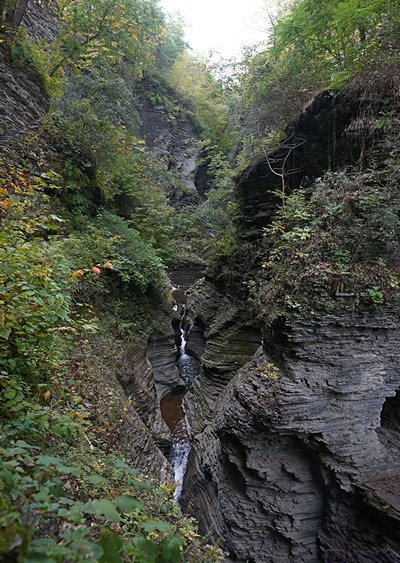 Our first real look at the Gorge from the Gorge Trail on the other side of the bridge.  This is as far as we went.  The full trail was a mile long, wet, and had over 800 steps.  We had not budgeted the time, nor brought the appropriate clothing, for such a hike, but were glad to see what we saw.We left Watkin's Glen State Park and continued up the Seneca Lake Wine Trail on the east side of Seneca Lake.  We only stopped at one winery but enjoyed the drive.  "Wine country" has it own special look, with acres and acres of vineyards (and orchards) and a wonderful variety of winey tasting rooms.
We returned to Seneca Falls briefly so Linda could pick up a few things at the Women's Rights NHP gift shop.  We were headed back to the KOA and decided to vector off to one last winery on the east leg of the Keuka Lake Wine Trail.
We had a nice drive back to the KOA, where Linda started preparing dinner and I reorganized the back seat of the F-150 to properly store/transport all of the wine/mead we had collected throughout our grand tour.  We were finishing dinner when an otherwise ordinary sky exploded with color.  I grabbed my phone to see what I could capture.
…