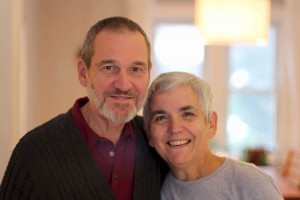 Hi! Bruce and Linda here. Welcome to our website. Here's a little bit about us.
Bruce — I am a retired educational assessment and evaluation consultant with a Ph.D. in Education Research and Evaluation. I also have a Master of Arts in Teaching, as well as M.S.E.E. and B.S.E.E. degrees, and taught at the high school and college level before becoming a consultant. I also had a commercial/industrial photography practice at one time. These days I spend most of my time on our converted motorcoach, ham radio hobby, photography, and with our children and grandchild, although I find time every day to read.
Linda — I am a semi-retired corporate controller and licensed C.P.A. and hold a B.S.B.A. in accounting. Like Bruce, I spend time with our motorhome, ham radio, and our children and grandchild. We follow a whole-food, plant-based diet, so I spend a lot of time planning menus, shopping for ingredients, and cooking. I am an avid walker and also find time to read every day.
We are both hold ham radio operators.  Bruce holds an Amateur Extra Class license , call sign K8BRF.  Linda holds an Amateur General Class license, call sign K8LMF.  We are members of the American Radio Relay League (ARRL) and the South Lyon Area Amateur Radio Club (SLAARC), an ARRL affiliated club.
We are pretty seriously involved in RVing.  We started making more extensive use of our converted coach in the summer of 2013.  Bruce also started the more or less daily blog found here.  We are members of the Family Motor Coach Association (FMCA), The Escapees RV Club (SKPs), and the Good Sam Club.  We belong to the Great Lakes Converted Coaches Chapter of FMCA, and Linda is the current Treasurer.  We also founding members of the FMCA Freethinkers Associate Chapter, and Bruce is the current VP and Secretary.  Our SKP affiliations include Chapter 6 (Michigan), the Habitat For Humanity BOF (special interest group), the Ham Radio BOF, the Freethinkers BOF, and the newly formed SKP Photographers BOF.  Starting with the February 2013 issue, Bruce has been writing articles for Bus Conversion Magazine.