SATURDAY 24 September
We had two very different things on our agenda for today.  The first one was the Start Trek Experience in Ticonderoga, New York.  The other was a visit to Crown Point State Historic Site on the New York side of the Lake Champlain Bridge.  This post only covers our visit to the Star Trek Experience.  There will be a second post for today's date about the State Historic Site.
Most of this post is photos with captions.  All 30 of the photos were taken on my Google Pixel 6 Pro smartphone and processed with Faststone Image Viewer.  By way of introduction, however, the Star Trek Experience is a full-scale reproduction of the permanent set at Desi Studios that was used to film all the scenes that took place aboard the Starship Enterprise in the 79 episodes of the Original Series.  The reproduction was built from copies of the original blueprints for the set.  A second soundstage was used for all of the scenes that took place off of the ship.  As these were different for each episode, the were disassembled and replace for each one.
We had reservations for the 10 AM tour.  As you will see in some of the photos, our tour guide, whose name I failed to get, resembled and older William Shatner.  As a disclaimer, not being a Trekkie, I might have a few details wrong in the captions.  If so, feel free leave a comment with the needed correction(s).  According to our tour guide, there are about 200 things (devices, etc.) that were created for the series that did not exist at the time, and were considered very futuristic, but have since come to exist.  Think cellular communications and iPads.  We also found it interesting that William Shatner comes to this venue about twice each year.  As a final comment, the Reproduction was very well done, our tour guide was excellent (knowledgeable and funny), and we thoroughly enjoyed the experience.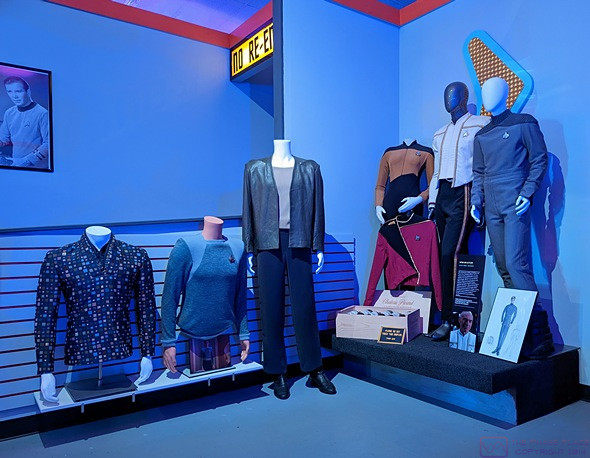 …